Welcome to Noushad's Kottakkal Home Page
Little About Kottakkal
(12 km southwest of Malappuram) This small town is home to the famed Kottakkal Arya Vaidyasala, one of the pioneer institutions of Ayurveda, the traditional system of health and medicine, in Kerala. Founded in 1902 by Vaidyaratnam P.S.Warrier, Kottakkal Arya Vaidyasala has branches all over the State as well as in Delhi and Madras. One of the best Ayurvedic centres in the State, the Arya Vaidyasala runs and Ayurvedic research centre, a nursing home and a hospital. The chief physician can be consulted only by appointment made at least 10 days in advance. Accommodation options at the nursing home include family blocks, double rooms, single rooms and suites.
Getting to Kottakkal
Nearest railway station: Tirur town, about 12 km
Nearest airport: Karipur International Airport, Kozhikode about 36 km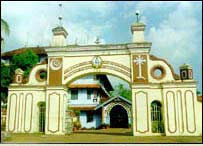 Kottakkal Pooram
Kottakkal, the seat of Ayurvedic treatment is also famous for its temple festival. Kottakkal pooram, celebrated during March-April is attractive for its cultural festivity. During the seven days, famous classical artistes of the country perform here.

Kottakkal Arya Vaidya Sala
Situated at Eranaud Taluk, Kottakkal Aryavaidyashala is famous both in India and Abroad. Vaidyarathnam P.S.Variar (1869-1946) established this famed center for Ayurvedic treatment, in 1902.
This sprawling medical center, spread over 800 acres houses a Viswambhara temple, centers for preparing medicines, sales counters, free treatment centers, medicinal gardens and facilities for research, Dr P K Variar heads the Ayurveda center which has outlets in India and Abroad.
The medicinal garden in the Kottakkal Aryavaidyasala, houses various medicinal plants including "Gulgulo" from Rajasthan, "Rakthachandanam" from Andhrapradesh, "Neermaruthu" used for heart diseases,"Rudraksham" and "Somalatha" from Nepal.